CONCRETE
a new opera by Robert Ashley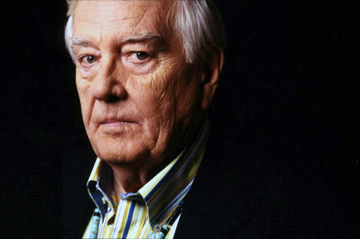 Photo by Joanne Savio
Presented by La MaMa E.T.C.

The Annex
January 17-21, 2007
Wednesday – Sunday, 8:00 p.m.
Tickets $20
Online tickets: La MaMa E.T.C.

Libretto, Music and Direction: Robert Ashley
Singers: Sam Ashley, Thomas Buckner, Jacqueline Humbert, Joan La Barbara
Electronic orchestra: Robert Ashley
Mixing and live electronics: Tom Hamilton
Technical coordination/sound system engineer: Cas Boumans
Stage Design and Lights: David Moodey

Concrete is presented in association with
World Music Institute's "Interpretations" Series.
Concrete is funded by the MAP Fund at Creative Capital.

Press Contact:
Isabelle Deconinck, La PR — Press & Marketing for the Arts
212-727-7662 / isadeco@earthlink.net

Photo by Stephanie Berger
Concrete follows from Robert Ashley's preoccupation in two previous operas with the kind of speech that has not been explored in opera — in Dust, the speech of the homeless; in Celestial Excursions, the speech of people living together in a home for old people. The three operas are not a "trilogy" in any sense, but they all come from this preoccupation with or fascination with special kinds of speech and special kinds of states of mind.
"The characters I'm interested in," Ashley explains, "are marginal, because everybody is marginal compared to the stereotypes. I am interested in their profoundly good qualities, and I'm not interested at all in evil. The characters in my work are as bizarre and unreal as the characters in William Faulkner. They just happen to be ordinary people who are spiritually divine." (The Wire, 2003).
Though in Concrete it is not made explicit in any way, the libretto might be considered to be the "musings" of an old man alone. He thinks about strange questions and even as the questions are asked they are answered in various forms of sarcasm, indifference, questions about the questions and explanations. In other words, he is talking to himself.
The opera takes the form of five "discussions" about matters he wonders about: Why do people keep secrets about themselves? Why do the buildings in the city all line up perfectly (vertically) when the surface of the planet is round? Why is it that so many things that people do as recreation are played counter-clockwise? What has happened to the many women friends ("lovers") he has had and "left behind" and why were they left behind? And, finally, the fact that he has recently seen a "flying carpet" (in his bedroom.)
The five "internal" discussions alternate with four reminiscences about people the old man has worked with and loved. The reminiscences are short and detailed biographies of seemingly ordinary people who in the past did extraordinary things — sometimes criminal, sometimes just brave in an unusual way — but will never be recognized for what they did. The stories will never be known, except to the audience. No one is named. These are secret lives.
The singers in the opera are not "characters" in any traditional way. They take part in the very fast "discussions" sections as voices in the old man's musings. Then each of the singers is given one of the "biographies" as a solo aria.
Counterclockwise from top: Tom Buckner, Jacqueline Humbert, Joan La Barbara, Sam Ashley. Photos by Stephanie Berger
The musical technique of the opera allows the singers, in ensemble and as soloists, complete freedom with regard to vocal pitch, speech nuance and inflection. The opera will be sung differently in every performance. The orchestra, recorded in the computer, is made up of some hundreds of composed, short orchestral "samples" which can be chosen at the moment to make up the accompaniment to the singers' decisions about how to tell the story. In short, every performance, but based on the same libretto, will be different.
| | |
| --- | --- |
| The orchestra: Tom Hamilton, Robert Ashley. Photo by Stephanie Berger | |
"The gambler's game is one of steely nerves, patience and sometimes sleight of hand. Watch a gambler at the card table, and you might never notice anything out of the ordinary, apart from freakish runs of good fortune. But let a card sharp explain his work, and a different game is revealed. Four old acquaintances have found their way into "Concrete," all seemingly ordinary people with something risky and perhaps sinister hidden below the surface."
— Steve Smith, The New York Times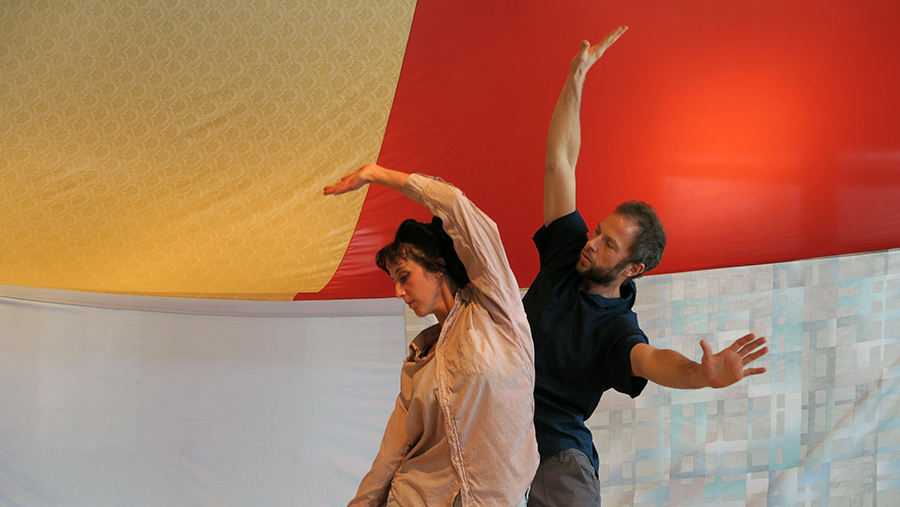 Sam Ashley and Joan La Barbara. Photo by Stephanie Berger
"In some ways, Ashley is the musical counterpart of David Lynch, a detective of weird secrets amid everyday life, but he's a gentler, more compassionate spirit."
— Alex Ross, The New Yorker
"Ashley has been called the grandfather of rap, one who has had a profound impact on other innovative musical artists, including such figures as David Byrne and Laurie Anderson."
— Jacqueline Humbert, NewMusicBox.org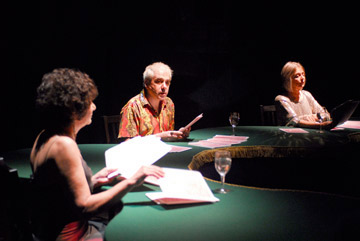 Jacqueline Humbert, Sam Ashley, Joan La Barbara. Photo by Stephanie Berger
"Ashley has, in fact, redefined opera. His works are based in multimedia technology and his subjects are typically ordinary lifesize people."
— ArtsElectric
"From gambling and smuggling to near collisions, Concrete is a meditation on the literal and figurative risks we take. Structured as the internal ruminations of an old man looking back on his life, Robert Ashley's innovative, starkly modern opera features four longtime Ashley vocalists whose respective English-language arias convey the fragmented voices within an individual. The opera's visual austerity is complemented by music that is as ethereal as the narrative is haunting, creating an auditory and emotional soundscape of burdensome memories and roads not taken."
— Chelsea Bauch, Flavorpill
"And what voices: flexing deft embellishments at rehearsal, Jacqueline Humbert's knowing persistence, Sam Ashley's rhythmic twang, Thomas Buckner's supple projection and the breathtaking precision of Joan La Barbara devote immense skills to Ashley's subtle sonic world."
— Alan Lockwood, New York Press
Listen to Robert Ashley's interview with John Schaefer on WNYC's Soundcheck (93.9 FM).
Listen to Robert Ashley's interview with Darren Levy on WNYU's Citywide (89.1 FM New York).
About Robert Ashley
A major figure in American contemporary music since the 1960s, Robert Ashley has acquired an international reputation for his work in new forms of opera and multi-disciplinary projects. In his book, American Music in the 20th Century, Kyle Gann states, "Electronically innovative, socially provocative, and incorrigibly theatrical, Robert Ashley epitomizes the conceptualism of the 1960s, yet more than any other figure he has transcended it." In the 1960s, Ashley organized Ann Arbor's legendary ONCE Festival and directed the ONCE Group. During the 1970s, he directed the Center for Contemporary Music at Mills College, toured with the Sonic Arts Union, and produced and directed Music with Roots in the Aether, a 14-hour television opera/documentary about the work and ideas of seven American composers. Ashley wrote and produced Perfect Lives, an opera for television widely considered the precursor of "music-television." Staged versions of Perfect Lives and Atalanta (Acts of God) and the monumental opera tetralogy, Now Eleanor's Idea have toured throughout Europe, Asia and the United States. He wrote Balseros for Florida Grand Opera, Dust for premiere at the Kanagawa Arts Foundation in Yokohama, and Celestial Excursions for the Berlin Festival and Hebbel Theater Berlin. Ashley was born in Ann Arbor, Michigan in 1930 and was educated at the University of Michigan and the Manhattan School of Music.
For production information:
Performing Artservices, Inc.
Mimi Johnson
260 West Broadway, Suite 1
New York, NY 10013
tel: 212-941-8911
fax: 212-334-5149
artservicesinc@mindspring.com

"Ashley celebrates language and questions its basic hold on truth or rational thought. His ultimate message may be that the language of music strikes deepest."— The Los Angeles Times

"When the 21st century glances back to see where the future of opera came from, Ashley, like Monteverdi before him, is going to look like a radical new beginning." — Kyle Gann, The Village Voice

"If James Joyce were alive today, he would probably be trying to write operas like Robert Ashley." —The Wire