QUICKSAND (2012-2016)
An opera-novel by Robert Ashley
with Choreography by Steve Paxton, Orchestra by Tom Hamilton and Lighting by David Moodey
performed by Maura Gahan and Jurij Konjar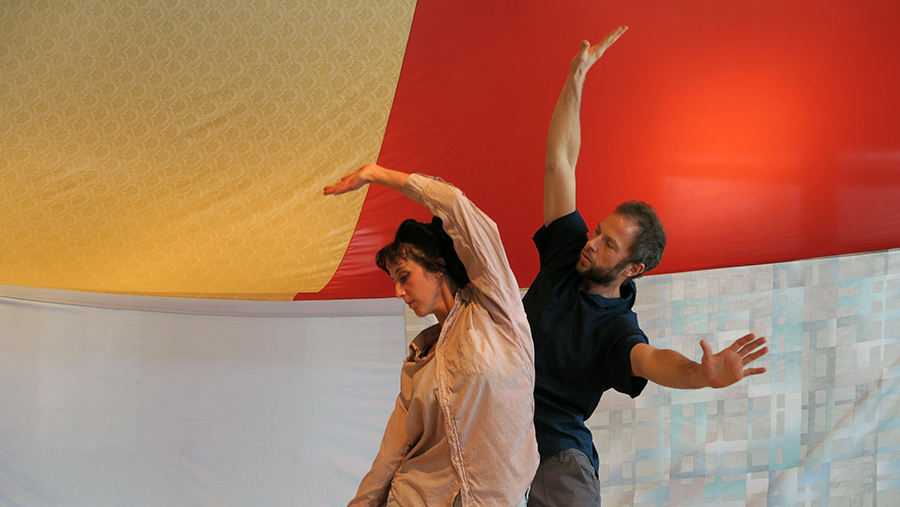 Photo: Jurij Konjar
Music and Libretto by Robert Ashley
Orchestra composed by Tom Hamilton
Choreographed by Steve Paxton
Lighting by David Moodey
Performed by Maura Gahan and Jurij Konjar
Stage Manager: Annie Arthur Kaup
At the Kitchen: January 28, 29 and 30; February 4, 5 and 6, 2016.
Performances start at 7 p.m.
2 hours, 50 minutes plus an intermission between Acts II and III at approximately 8:45 p.m.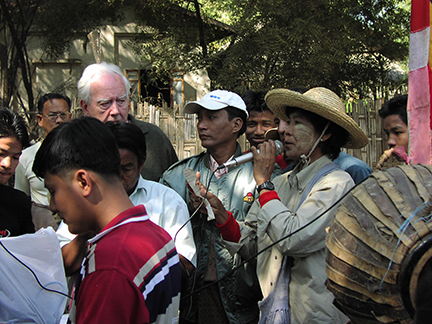 Photo: Mimi Johnson
QUICKSAND is an opera for music, dance and light composed from a novel of the same name (released in 2011 by Burning Books) by the late Robert Ashley. Quicksand is divided into three acts, each containing 16 scenes accompanied by a unique set of specific harmonies that Hamilton used to create the electronic orchestra. Ashley asked Paxton and Moodey to compose 16 visual scenes each, based on any image evoked by the opera. The 16 scenes in choreography and 16 in lighting were to be separate and "moveable," meaning that any of them could be used or repeated in combination with any of the 48 musical scenes. Ashley's purpose in suggesting this technique was to unify the opera structurally without the separate elements of music, dance and lighting being forced to illustrate the linear succession of events in the story. The order in which the scenes have been arranged for the final production will not change during the run.
The story:
"... it's like quicksand. You put one foot in and then you're up to your neck."
A composer, who travels internationally because of his musical activities, has been coerced by some U.S. Government Agency (the "Company") to serve as a low level information "courier" (a low-level spy) wherever he goes. Now, he takes a vacation sightseeing tour with a small group of Americans, including his wife, to an unnamed country in South East Asia, which is culturally beautiful and exotic, but is run by a vicious military dictatorship. During the tour he becomes involved, because of his immediate and deep friendship with two tour-guides -- and their trust in him -- with plans to overthrow the dictatorship. The tour-guides are leaders of a nationwide group of people who have the overthrow planned for a day when, coincidentally, he is to be there. The tour-guides arrange for him to be separated from the tour group (so that the group, including his wife, gets home safely.) Then, he gets involved ever more deeply with the overthrow plans. The dictatorship has learned of his involvement, so there is a constant threat to his life. "The Company," unhappy to learn of his involvement, sends four American mercenaries to protect him and to protect "American interests." The composer and the mercenaries become close friends and together get emotionally involved with the overthrow plans. In fact, they become the main instruments of the overthrow operation, which involves the capture and imprisonment of the leaders of the dictatorship and the destruction of the torture operation by which the dictatorship maintains its power. The overthrow is a complete success, thanks to the professional skills of the mercenaries. The opera ends with a love letter of a sort from one of the tour-guides, who writes with affection of the mercenaries and of the composer who have, for the moment, brought freedom to her country.
"...it's all true except for a lot of the facts."
Steve Paxton: Notes on the Choreography
As a performer/improviser with Lisa Nelson, I used two of Ashley's early works. One was dense with text, one was essentially mumbling. "The Park" and "The Backyard" from his Private Parts comprised the soundtrack for PA RT (my 1978 work with Nelson). Automatic Writing – with some other inclusions – was the soundtrack for our Night Stand (2004).
Ashley considered his proposals operas. With the two elements of Private Parts, he spun a tale of two individuals, each deeply involved in their own private worlds; the texts included their physical circumstances plus thoughts they had; allusions, digressions, memories, interests. The audiences for our performance couldn't grasp all of it ... the dance got in the way. This resulted in the heard images surfacing throughout the dance, hearing and seeing split in two. Lisa and I performed PA RT from 1978 to 2001. I loved the support of the narrative's twists and different levels, the musical atmosphere coming to prominence, then becoming background again.
Automatic Writing was a very different score. Two voices predominate, Ashley's and Mimi Johnson's. Ashley's voice has been musically altered into indecipherability. Mimi Johnson whispers translations in French. It seems to be a situation of a man in existential distress with a soothing companion. It is rather the opposite of Private Parts; his voice without thoughts, allusions, interests, digressions, memories. It was far more challenging to perform with, being a constant and barely inflected present. Together the two scores demonstrate the breadth of thought in Ashley's approach to opera.
A thought that Bob "had the odd talent of remaining still as his music and text swirled" was in my mind as I accepted Ashley's invitation to choreograph Quicksand. But what I found was a very different approach. The text is a story of spies, in an unnamed far-Eastern country, and a revolutionary event. The music is a background of delicately modulated electronic chords. This is Ashley in the guise of a classic noire author, yet another departure from his previous work. The text for Quicksand doesn't swirl much.
This is a first commission for an opera for me.
Dance within operas was frequently in the form of divertissements, not necessarily linked to the plot. I used this approach, with some references to Ashley himself, the author, and to a rather romantic connection he mentions in the text. In the main, though, I used the dance as relief from the ongoing three-hour text.
I felt that the divertissements should not overwhelm the text. They tend to be low-key, fairly brief, and occasional. They color and populate the text, provide another layer of activity to the proceedings, but aim to service the atmosphere, and not challenge the ongoing narrative. Ashley left us some general directions, mostly to enable a separation between the elements of dance, text, and light. He obviously did not anticipate illustration of the elements of the text. Nor would he have enlisted me if that had been his desire. I only wish he had lived to see this production.
Tom Hamilton: Notes on Making the Orchestra
I joined the Robert Ashley ensemble in 1990, with a background as a composer and performer of electronic music and as an audio producer and engineer. We began by focusing on the electronic orchestra for Bob's opera Improvement (Don Leaves Linda). In the 25 years that followed I collaborated in the making of orchestras in nine operas and many shorter pieces. As Bob always held innovation and change in the highest regard, there are formal designs and gestures that were very different from one piece to the next, and often we made up the studio techniques on the spot, adjusting the elements empirically until they sounded right within the intended context. The processes that we evolved in those 25 years certainly informed those that I used in preparing this present music.
Quicksand went through a long gestation and actually two different versions. After an initial attempt at recording a vocal ensemble piece that was strictly metered and very stylized, Bob decided just to tell the story himself as fast as he could read it. He was aiming for a kind of run-on vocal style and encouraged me to edit out as much silence between the words as I could manage. He also wanted to break away from his former practice of measuring the orchestra in bars and beats, and to break away from conventional musical time altogether. The music was to be paced strictly by durations of sounds within a harmonic scheme, and I was charged with making an orchestra that fulfilled that plan. I fashioned a demo orchestra for Act I that tested these ideas in a kind of homogenous setting and played it for him in January of 2014, the last time we saw each other.
The actual musical material is based on the 16-chord sequence used to structure Ashley's earlier opera eL/Aficionado (1993). In Quicksand, those chords are used in two ways: First in their original linear sequence, heard as kind of a harmonic cloud that changes with each of the scenes in each act; then, as isolated groups of chords in a different order and of different durations, superimposed on the original harmony and sounded by timbres that change at their own rate. The result is an unstable harmonic landscape, never fully grounded in any familiar context – a patch of musical quicksand.
David Moodey: A Note on the Lighting
It was an honor and privilege to work with Robert Ashley. Over the course of the last 15 years I worked on every new opera that Bob wrote and produced.  He entrusted me with designing both the lighting and the settings.  As an artist, because of the creative freedom he gave me, I was able to grow and expand my capabilities. We became close friends. We talked about his works, his goals with each new piece, the state of art and life.  My craft and my life were enriched by his presence and our collaboration.
Bob never told his collaborators exactly what to do; he allowed them to respond to his work with their own.  With Quicksand, he provided structural guidelines — a place to start. In my case he left me free to create lighting that helps the audience connect to the opera visually. The libretto tells the story in a more or less linear progression. I don't have to tell the audience whether it's day or night, indoors or out. What I hope I have accomplished is the creation of a light environment that, along with Steve's choreography, enhances the story's emotional content.
About the Artists
STEVE PAXTON was born in 1939 in Phoenix, Arizona. Paxton's work has recently been presented at the Museum of Modern Art, New York (2012); Tanz im August, Berlin (2013); Spanski Borci Cultural Centre, Ljubljana (2014); Venice (2014); and Tanzwerkstatt Europa, Munich (2014). In 2013, Dia Art Foundation presented Night Stand (2004), a work by Paxton and Lisa Nelson, at Dia:Chelsea in New York City, and in 2014 performances of early work and a recent solo at Dia:Beacon. In 2014 the Dance Biennale, Venice, awarded Paxton the "Golden Lion" for Lifetime Achievement; and in 2015 he received a New York Dance and Performance Award (or "Bessie") for Lifetime Achievement in Dance. He lives in Vermont.
TOM HAMILTON maintains overlapping careers in audio production and music composition. Since 1990, Hamilton has been a member of the composer Robert Ashley's touring opera ensemble, performing sound processing and mixing in both recordings and concerts. His audio production can be found in over 100 CD releases of new and experimental music. Hamilton has also composed and performed electronic music for over 40 years; his work with electronic music originated in the late-60s era of analog synthesis. He is a Fellow of the Civitella Ranieri Foundation, and participated in a residency at its center in Umbria in 2005. Hamilton has released 15 CDs of his own music; his CD London Fix received an award in the Prix Ars Electronica, and a 2-CD set of his electronic music of the 1970s was named one of The Wire's Top 50 Reissues of 2010. Hamilton was the co-director of the 2004 Sounds Like Now festival, and he co-produced the Cooler in the Shade/Warmer by the Stove new music series for 14 years.
DAVID MOODEY has collaborated with Robert Ashley since 1999, most recently designing for the remounting of Ashley's That Morning Thing at the Kitchen and Crash at the Whitney Museum of American Art and Roulette. He is the principal designer and production manager for Molissa Fenley, Robert Ashley, and the Joffrey Ballet School, NYC. His design for Fenley's State of Darkness earned him a Bessie award for lighting design. He has also designed and toured numerous shows for Paul Lazar and Annie-B Parsons and their company, Big Dance Theater; for David Neumann's feedforward at Dance Theatre Workshop; and for Peter Boal's three seasons at the Joyce Theater in New York. He is a member of the United Scenic Artists, Local 829 as well as the International Alliance of Theatrical Stage Employees, Local One.
MAURA GAHAN is a freelance dancer, puppeteer and painter. She has been combining dance, puppetry and objects in performance since 2000, while earning a BFA in Dance Performance and Choreography with minors in Art and Theater from Ohio University. For over ten years, Gahan has worked with Peter Schumann's Bread and Puppet Theater touring Europe, Asia and North America building and performing with puppets, masks, music, clowning, opera and choreographing street dances. In 2008 she collaborated with Schumann to transform Lubberland National Dance Company into a touring, community-based political dance form. Gahan began studying Steve Paxton's Material for the Spine in 2010 and Lisa Nelson's Tuning Score in 2012. Gahan also works for Vermont Fish and Wildlife while living in the mountains of Vermont.
JURIJ KONJAR was born in Ljubljana in 1978. He trained in judo and practiced singing from an early age, then began dancing in ballroom competitions. In 2007 he suffered a head injury that shifted the focus of his work towards the potential of the present moment. An in-depth observation of Steve Paxton's Goldberg Variations video triggered what became an ongoing improvisation practice. He has been working with Paxton since 2010.
ROBERT ASHLEY (1930-2014), one of the leading American composers of the post-Cage generation, is particularly known for his work in new forms of opera. In the 1960s, during his tenure as its director, the ONCE Festival in Ann Arbor presented most of the decade's pioneers of the performing arts. With the legendary ONCE Group, he developed his first large-scale operas. Along with Alvin Lucier, Gordon Mumma and David Behrman, he formed the Sonic Arts Union, a group that turned conceptualism toward electronics. Throughout the 1970s, he directed the Center for Contemporary Music at Mills College, and produced his first opera for television, the 14-hour Music with Roots in the Aether, based on the work and ideas of seven influential American composers. In the early 1980s the Kitchen commissioned Ashley's Perfect Lives, the opera for television that is widely considered the precursor of "music-television."
For more information, contact:
Mimi Johnson
Performing Artservices, Inc.
260 West Broadway
New York, NY 10013
tel: 212-941-8911
artservicesinc@mindspring.com
or Press Representative,
Isabelle Deconinck at La PR
tel: 646-623-1709
isadeco@earthlink.net