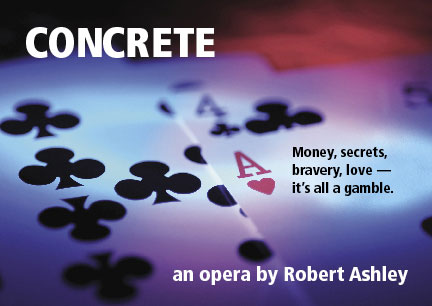 La MaMa E.T.C., in association with the World Music Institute's "Interpretations" Series, presents an opera by the composer who has been praised for his uniquely American operas.
PERFORMANCE AND TICKET INFORMATION
6 Performances
Wednesday through Sunday, January 17-21, 2007, 8 p.m. Sunday matinee at 2:30 p.m.
La MaMa Annex, 74A East 4th Street, New York
Tickets: $20 / $15
La MaMa Box Office: 212-475-7710

The cast features new music luminaries SAM ASHLEY, THOMAS BUCKNER, JACQUELINE HUMBERT, and JOAN LA BARBARA — who have sung Ashley's work for the last 20 years and are fluent in his unique vocal techniques — and TOM HAMILTON, who processes and mixes the voices and orchestra. Light and set design is by DAVID MOODEY.

Like DUST, which captured the ramblings of homeless people, and CELESTIAL EXCURSIONS, which ventured into the confined world of an old people's home, CONCRETE takes an inward look at seemingly ordinary people — but who have gambled spectacularly with money and with their lives.

The work is structured around five internal "discussions" in which the singers use a rapid and rhythmically altered conversational style. The "discussions" are about ideas that are "right in front of us" but rarely discussed: Why are buildings in a city so perfectly aligned when the earth is round? Why do games that people play so often move counter-clockwise? What makes people keep secrets? Interjected into these "discussions" are four solo arias in which each of the performers tells the short but detailed life of someone the old man has known in the past and whose life holds some kind of secret. These are the lives of ordinary people who did extraordinary things for which they will never be recognized. Only the audience hears their stories, no one is named: these are "secret" lives.

Unique to CONCRETE is that Ashley creates the computer-generated orchestra live, making the dialogue between the voices and the orchestra new at each performance. "The singers are telling stories of course, but for me, the opera is really all about the SOUND of their voices with the electronic orchestra."
---
CREDITS
Music and libretto: ROBERT ASHLEY
Singers: SAM ASHLEY, THOMAS BUCKNER, JACQUELINE HUMBERT, JOAN LA BARBARA
Electronic orchestra: ROBERT ASHLEY
Mixing and live electronics: TOM HAMILTON
Set and light design: DAVID MOODEY
Sound system engineer: CAS BOUMANS
Production stage manager: JEN MCCLENAHAN
Associate lighting designer: MELANIE LIPKA
Assistant lighting designer: SOLOMON WEISBARD
Press Representative
Isabelle Deconinck/ La PR
212-727-7662

Management: Performing Artservices, Inc.
212-941-8911
artservices@mindspring.com

---
"When the 21st century glances back to see where the future of opera came from, Ashley, like Monteverdi before him, is going to look like a radical new beginning." -- Kyle Gann, The Village Voice
"If James Joyce were alive today, he would probably be trying to write operas like Robert Ashley." -- The Wire

---
The musical technique of the opera allows the singers, in ensemble and as soloists, complete freedom with regard to vocal pitch, speech nuance and inflection. The opera will be sung differently in every performance. The orchestra, recorded in the computer, is made up of some hundreds of composed, short orchestral "samples" which can be chosen at the moment to make up the accompaniment to the singers' decisions about how to tell the story. In short, every performance, but based on the same libretto, will be different.
"The gambler's game is one of steely nerves, patience and sometimes sleight of hand. Watch a gambler at the card table, and you might never notice anything out of the ordinary, apart from freakish runs of good fortune. But let a card sharp explain his work, and a different game is revealed. Four old acquaintances have found their way into "Concrete," all seemingly ordinary people with something risky and perhaps sinister hidden below the surface."
— Steve Smith, The New York Times
"In some ways, Ashley is the musical counterpart of David Lynch, a detective of weird secrets amid everyday life, but he's a gentler, more compassionate spirit."
— Alex Ross, The New Yorker
"Ashley has been called the grandfather of rap, one who has had a profound impact on other innovative musical artists, including such figures as David Byrne and Laurie Anderson."
— Jacqueline Humbert, NewMusicBox.org
"Ashley has, in fact, redefined opera. His works are based in multimedia technology and his subjects are typically ordinary lifesize people."
— ArtsElectric
"From gambling and smuggling to near collisions, Concrete is a meditation on the literal and figurative risks we take. Structured as the internal ruminations of an old man looking back on his life, Robert Ashley's innovative, starkly modern opera features four longtime Ashley vocalists whose respective English-language arias convey the fragmented voices within an individual. The opera's visual austerity is complemented by music that is as ethereal as the narrative is haunting, creating an auditory and emotional soundscape of burdensome memories and roads not taken."
— Chelsea Bauch, Flavorpill
Listen to Robert Ashley's interview with Darren Levy on WNYU's Citywide (89.1 FM New York).