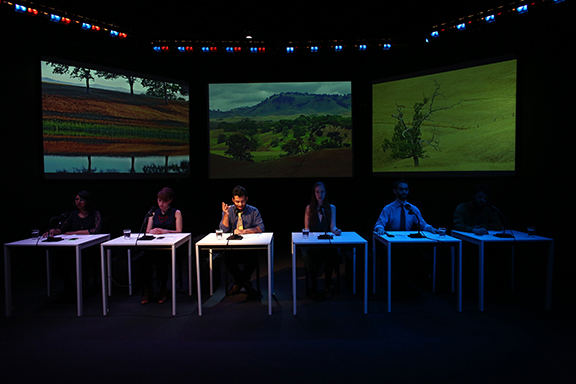 Photo by Paula Court, 2014. Used by permission.

Roulette is remounting Robert Ashley's last operatic masterpiece, Crash. The 4-day run (April 15-18, 2015) will feature the original cast of young, innovative performers who have been working at preserving the composer's legacy. Crash premiered at the Whitney Biennial last April, and the performances were sold out in 3 days. This run will offer New York audiences a new chance to hear Ashley's final opera in a much larger theater setting. More Information
---
NEWS and UPCOMING PERFORMANCES:
March 28, 2015. Thomas Buckner will present his Tribute to Robert Ashley concert ("The Producer Speaks", "World War III Just the Highlights", "Mystery of the River", and "Tract") for the sfSoundSalonSeries, 55 Taylor Street, San Francisco, CA. Here's a link to the event: sfSound
April 1, 2015, the Southland Ensemble plays early works by Robert Ashley: The Entrance, She Was A Visitor, The Wolfman, in memoriam...Esteban Gomez, Trios (White on White). Best Events
REDCAT Theater, Los Angeles, CA. Southland at REDCAT
January 2016. The Kitchen will present "Quicksand." Ashley completed the recording of his reading of this opera-novel during the summer of 2013. Steve Paxton, David Moodey and Tom Hamilton will bring the opera to life at The Kitchen in January 2016!