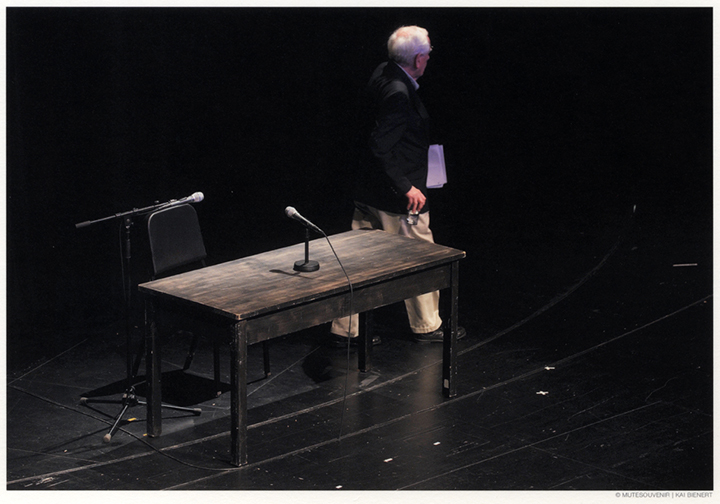 "Bob leaves the stage." Many thanks to Kai Beinert for this photo, taken in March 2012 in Berlin.
Robert Ashley died on March 3, 2014, just three months after he finished his last opera, "Crash," and while it was in rehearsals for premiere at the 2014 Whitney Museum Biennial.
---
COMING UP:
On September 2, 2014, at JACK, Gelsey Bell performs Ashley's "Love Is A Good Example" for the Resonant Bodies Festival.
On September 11, 2014, at Roulette, Thomas Buckner presents a program of pieces written especially for him by Robert Ashley (1930-2014) in their 30+ years of working together. The works include the stand-alone pieces 'World War III, Just the Highlights' and 'Tract', and three completely re-conceived concert versions of arias from the opera "Atalanta, Acts of God": 'The Producer Speaks', 'Odalisque', and 'Mystery of the River', in its New York premiere. He will be joined by Tom Hamilton (electronics), Joseph Kubera (piano), Pauline Kim Harris and Conrad Harris (voices), and members of the SEM Ensemble. This event is co-sponsored by Roulette and Performing Artservices. MORE.
September 19, 2014. 3pm. Listen in (91.1 Mhz FM) as Varispeed performs live in WFMU's new studios. They'll present 'The Bank', from "Perfect Lives." More info here.
November 1, 2014. Ashley Concert at Mills College, Oakland, CA. Works from the 1960s and 70s.
April 15-18, 2015, Roulette will present the reprise of "Crash", featuring the original cast: Gelsey Bell, Tom Hamilton, Amirtha Kidambi, Brian McCorkle, Paul Pinto, Dave Ruder, and Aliza Simons. It was presented as part of the Whitney Museum 2014 Biennial with very limited seating.