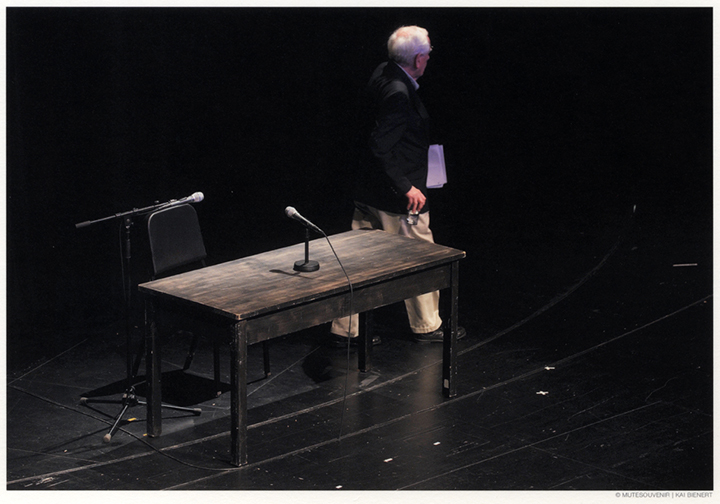 "Bob leaves the stage." Many thanks to Kai Beinert for this photo, taken in March 2012 in Berlin.
Robert Ashley died on March 3, 2014, just two months after he finished his last opera, "Crash," and while it was in rehearsals for premiere at the 2014 Whitney Museum Biennial.
"And let it be set down, Bob was one of the most amazing composers of the 20th century, and the greatest genius of 20th-century opera. I don't know how long it's going to take the world to recognize that. And it hardly matters. He knew it." -- Kyle Gann, PostClassic, 3/3/2014
---
NEWS and UPCOMING PERFORMANCES:
David Gutkin's article on Robert Ashley's operas has been published in the Winter 2014 issue of Oxford University Press's, "Opera Quarterly." Here's the link: Meanwhile Let's Go Back in Time.
-------------------
April 1, 2015, the Southland Ensemble plays early works by Robert Ashley: The Entrance, She Was A Visitor, The Wolfman, in memoriam...Esteban Gomez, Trios (White on White). Best Events
REDCAT Theater, Los Angeles, CA.
April 15-18, 2015, Roulette will present the reprise of "Crash", featuring the original cast: Gelsey Bell, Tom Hamilton, Amirtha Kidambi, Brian McCorkle, Paul Pinto, Dave Ruder, and Aliza Simons. ("Crash" was presented as part of the Whitney Museum 2014 Biennial with very limited seating.) TICKETS NOW ON SALE. Here's a vimeo sample of the first act: Crash, Act I
January 2016. The Kitchen will present "Quicksand." Ashley completed the recording of his reading of this opera-novel during the summer of 2013. Steve Paxton, David Moodey and Tom Hamilton will bring the opera to life at The Kitchen in January 2016!